WonderWorks has seven new High Quality Apollo A7L Space Suits and six modern Shuttle EMU Spacesuits added to our rental department.   We also have three new Apollo IVA suits with bubble helmets.   We are starting construction of eight EMU and A7L suits to meet demand.   These photos show the level of detail and quality that goes into a WonderWorks suit.   All new suits are made of lighter material such as Kevlar and Aluminum thus reducing weight even further than our previous lightweight designs. Ours are not halloween suits nor awkward museum pieces, they are designed from the ground up to be comfortable and user friendly by Skilled Craftsmen with 35  plus years of experience in the Theme Park and Film industries.   We do not sell toys or rubber suits.   Our primary area of focus is replicating real space. not creating rubber suits.
CLICK On Images to Enlarge/
Change Page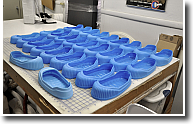 Summer of 2011 - Part of a run of
20 A7L suits being readied.
WonderWorks will have more than
80 suits available for rent soon.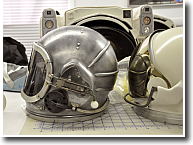 Our new, All Aluminum Retro
Future helmet fits nearly every
rental suit we have.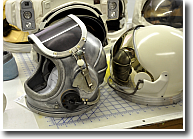 This helmet satisfies the need for
something "different" or Steam
Punk.
Our new 3D modeling capability
allows us to see how an item will
look when completed.
We are able to study it from all
angles.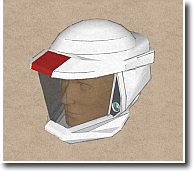 This is a new Partial Pressure Suit
helmet also suited for Haz Mat
use.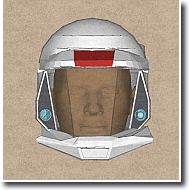 Soft LED lighting will illuminate
the actor's face.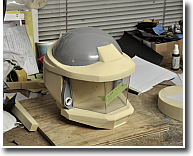 The helmet in prototyping stage.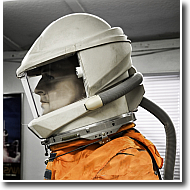 Nearly complete prototype.  
Compare to the design drawing.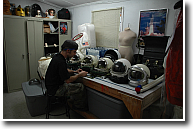 Assembly Line of Space Helmets -
DSC_5933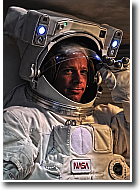 Astronaut WW EMU Dominic Mag
Cover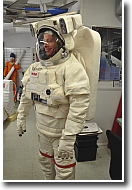 EMU/ EVA Suit DSC_1703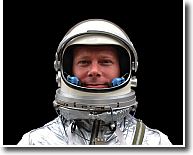 Mercury Film Grade DSC_0355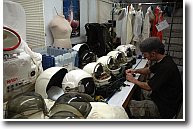 Assembly Line of Space Helmets -
DSC_5934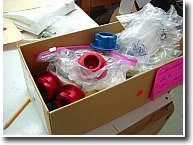 CNC A7L Fittings after matte
anodized finish.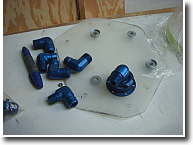 Anodized AN A7L Apollo hose
fittings.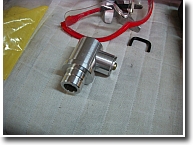 Hose connector after machining.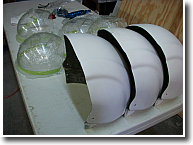 Thin wall fiberglass APOLLO A7L/
EMU helmets waiting fittings and
paint.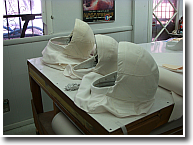 EMU/ APOLLO A7L Helmets with
Beta Cloth covers.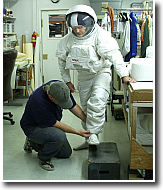 EMU/ EVA during first test fitting.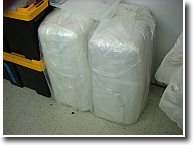 Apollo A7L backpacks ready for
shipment to production.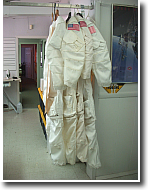 A7L prior to fitting and liner.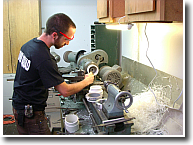 Eamonn Price Machining wrist ring
connectors.   One item out of
dozens required for each suit.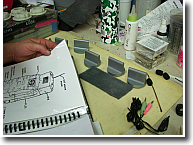 All parts are patterned using real
items as reference or referenced
from NASA blueprints.   The parts
are modified for ease of use.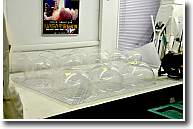 A7L Faceplates Under Construction
- DSC_1081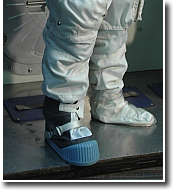 WW A7L boot detail - Two styles
(IVA & EVA)
SPACESUIT FABRICATION                                     
Serving Aerospace, Film, Entertainment &
Education for a Third Of A Century!
HOME
Space Suit Rentals
Space Suit Replica Rental FAQ
Space Shuttle Rental
Space Station iSS Rental
Space Ship/ Craft Replica Rentals FAQ
SpaceHab Module Rental
Space Related & General Gallery
Space Shuttle Simulator
Space Craft, Space Ships - Apollo to CEV
Space Suit Rental - Low Budget
SpaceSuit Construction
SpaceShip One
Space Movie Consultant
Space Education
Miniatures, General
Miniature Buildings
Theme Parks, Attractions
Props/Sets
Art & Photography
Movies
Credits, History, Articles
Awards
Auto, Custom and Show Cars
Planes, Trains, Ships
Concerts, Events
Contacts, Directions
Misc., News, Legal
FOR SALE
WANTED
Speedster
Train Kits