In reality, the SpaceHab allows for the expansion of crew capability while in space.   It can be used for living quarters, experiments, transport, etc.   The modular design allows for it to be configured off site and installed into the shuttle just as any other payload would be.   This design may be typical for Orion/ CEV when that program matures.
WonderWorks built the first first ergonomic study module for SpaceHab many years ago.   Our Rental Spacehab Module shown on these pages was first built for the UK reality show Space Cadets.   Our rental splits in half lengthwise for ease of shipping and filming.   The two halves can be placed end to end thus increasing the visual length when shot from the side.
CLICK On Images to Enlarge/
Change Page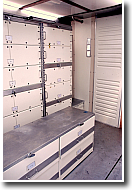 Spacehab Rental has functional
cabinets and drawers.   DSC_6723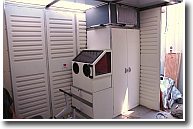 Work Station with Contamination
Cabinet.  DSC_6722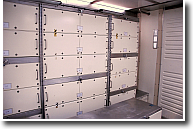 The interior cabinets are made
entirely of metal and mimic the
style of the Space Station.  
DSC_6724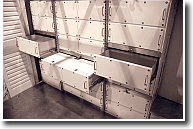 Space Lab cabinets are made
completely of metal and are fully
functional.    They can be
configured so that the drawer lid
becomes a work station.  
DSC_2512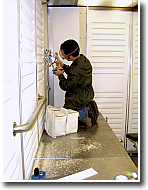 Interior lab section under
construction by Eamonn, Shop
Foreman.   CIMG0183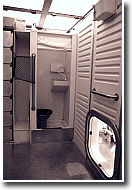 Most sections are wild for filming. 
DSC_2483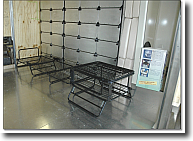 SpaceHab/Lab folding beds.  
DSC_3651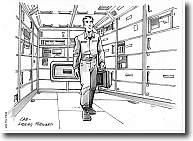 Space Lab Design View by
WonderWorks  1a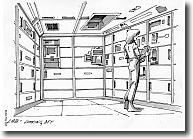 Space Lab Design View by
WonderWorks 2a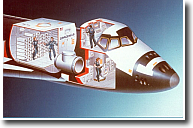 Real Spacehab Location in Shuttle
SPACE HABITAT MODULE FOR RENTAL
HOME
Space Suit Rentals
Space Suit Replica Rental FAQ
Space Shuttle Rental
Space Station iSS Rental
Space Ship/ Craft Replica Rentals FAQ
SpaceHab Module Rental
Space Related & General Gallery
Space Shuttle Simulator
Space Craft, Space Ships - Apollo to CEV
Space Suit Rental - Low Budget
SpaceSuit Construction
SpaceShip One
Space Movie Consultant
Space Education
Miniatures, General
Miniature Buildings
Theme Parks, Attractions
Props/Sets
Art & Photography
Movies
Credits, History, Articles
Awards
Auto, Custom and Show Cars
Planes, Trains, Ships
Concerts, Events
Contacts, Directions
Misc., News, Legal
FOR SALE
WANTED
Speedster
Train Kits