Since it's inception, WonderWorks™ has created, rented and sold accurate replicas of the Space Shuttle as well as fantasy science fiction space craft for TV and film.   Many  of our replica rentals use real space flight hardware modified to be user friendly for production companies.   As such, expensive Set Technicians or special equipment are not needed on location during filming.   Please read our detailed and informative Space Shuttle Rental FAQ by clicking here.
Every major space film in the past 35 years, which has featured the Shuttle, has done so using our replicas.   A UK reality show, "Space Cadets - Episode 1 of 6", had contestants believe for five full days that they were in space and in a real Space Shuttle.  Rarely has a film set and props had to perform for so long without a problem.  No one can top that caliber of realism and functionality!   See it here at Space Cadets - WonderWorks    We DISCOUNT our Space Suit rentals when used with our sets.    WONDERWORKS IS NEARING COMPLETION OF A SECOND SHUTTLE COCKPIT RENTAL set piece to satisfy demand.   See photos in Gallery.   We are also creating a Space Capsule of our own with an interior similar to CEV, Orion, SpaceX Dragon, etc. which are real space ship/craft being developed as a replacement for the Space Shuttle.
Artwork that has been generated over the years by WonderWorks inc is used to recreate realistic interior switch panels.   These are graphically "dimensional" and look real on camera or in exhibits much as a Faux Painting does.   We are currently creating a rental interior that is low budget alternative to our Film Grade cockpit utilizing these for detail.   We are also creating a State-Of-The-Art high-end cockpit and ISS Cupola with more detail and functionality than ever.
CLICK HERE for EMU, EVA, A7L, LEO or ACES Space Suit Rentals
CLICK HERE For More Shuttle/ Space Craft Rentals   
CLICK On Images to Enlarge/
Change Page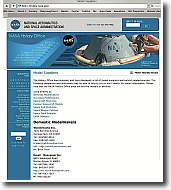 WonderWorks is the only company
of its' type listed on Nasa's Own
WebSite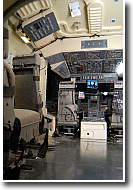 Shuttle Cockpit Rental as used in
Superbowl Commercial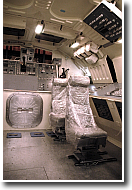 Space Shuttle Cockpit Interior AFT
Wall   DSC_2514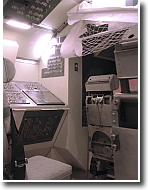 Optional Stretch section (no Extra
Charge) shown in place adds 5 feet
to the cockpit for ease of filming..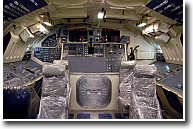 Shuttle Cockpit rental looking aft
from exterior windows.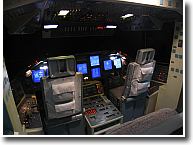 Glass Shuttle Cockpit - As it looked
on the final flight and currently
in our mockup.   Challenger
configuration available..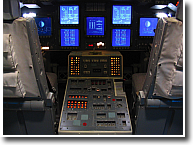 Shuttle Glass Cockpit Rental.  All
Images are unique (in pairs) and
pre-programmed for ease of use.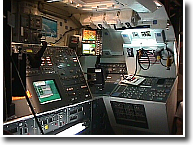 Shuttle Cockpit Aft Bulkhead. 
Panels may be customized for a
film or commercial.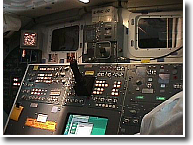 Shuttle Cockpit Aft wall with clear
windows.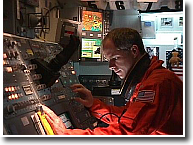 Shuttle Cockpit Rental as seen in
IBM commercial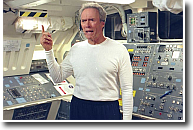 Shuttle Cockpit as seen in Space
Cowboys with Stretch Section in
place.   Image © Warner Brothers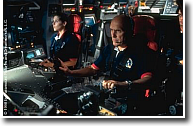 Shuttle Cockpit "stretched" further
in Deep Impact © Paramount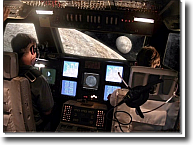 BBC View out of Modified Cockpit
Windows.  Used in this fashion in
current Battlestar Galactica series.  
AVAILABLE FOR RENT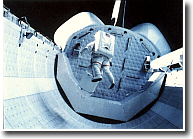 Cargo Bay Interior Space Cowboys
and Space Camp Movies.    NOT
AVAILABLE FOR RENT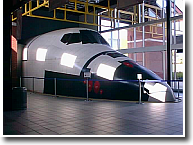 Full Scale Shuttle Nose built  for
Coca Cola Museum in Port
Columbus, Georgia's Challenger
Center
NOT AVAILABLE FOR RENT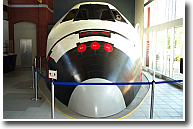 Shuttle Nose built from
WonderWorks molds for Coca Cola
Georgia Challenger Center    
NOT AVAILABLE FOR RENT
Shuttle Cockpit Walk Through for
Japanese Department Store  
EXTERIOR SHELL NOT CURRENTLY
AVAILABLE FOR RENT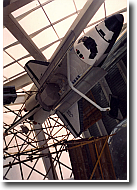 WW 1:5 shuttle model as hanging
display in the award winning
Museo De Los Ninos, Caracas,
Venezuela.   The same mold
produces models for film use.   
NOT AVAILABLE FOR RENT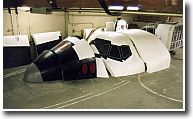 WW Shuttle nose at shop on floor
in pieces.   Note how the parts can
be moved around to nest one into
the other for shipping and storage. 
NOT AVAILABLE FOR RENT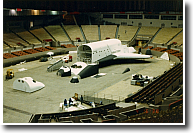 This is a frame taken from a time
lapse video of the WW shuttle at
the Cow Palace, San Francisco,
during assembly.
NOT AVAILABLE FOR RENT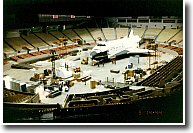 WW Full Sized Shuttle being
assembled in 22hrs.  Everything
was designed to fit into standard
cargo containers. 
NOT AVAILABLE FOR RENT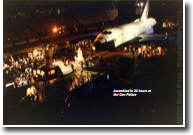 WW Shuttle finished at Cow Palace
less than a day later, under
schedule and budget.  
Professional lighting is a key to a
good presentation.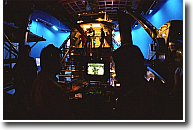 WW Cockpit Setup for Space
Cowboys © Warner Brothers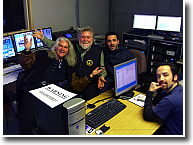 WonderWorks Simulator &
functioning Mission Control for
Space Cadets UK Reality Show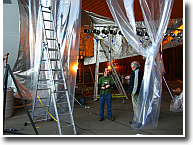 On the set of UK's Space Cadets   
NOT AVAILABLE FOR RENT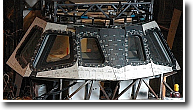 WW Shuttle Cockpit Exterior
Windows   AVAILABLE FOR RENT
AS AN OPTION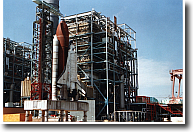 1:50 Shuttle on miniature Gantry
in Long Beach staged as
foreground miniature effects shot
in front of power station.  
AVAILABLE FOR RENT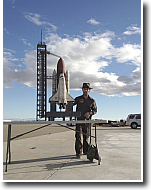 Eamonn Price with 1/50 Scale
Shuttle and Gantry rental model
at Mojave as foreground miniature
shot.   Shot with iPhone but still
looks realistic.  IMG_1233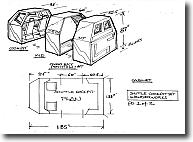 Layout and Approximate  sizes of
Cockpit Components - Middle
Stretch Section is now included in
basic rental at no charge.
Layout of Film Quality Mid-Deck
Parts
Layout of Mid-Deck Parts 3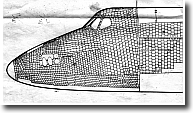 Space Shuttle Nose Thermal Tile
Scan is just one of hundreds of
original blueprints obtained by
WonderWorks prior to 9/11 for use
in making accurate replicas.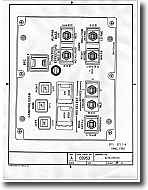 One Page of 100's that WW has for
Construction Research to produce
accurate and realistic Space
replicas.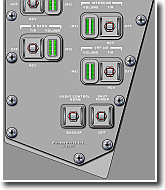 Dash Panel created by
WonderWorks from scratch using
original research material from
NASA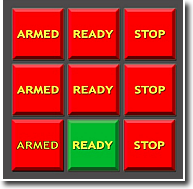 Backlit annunciator panel artwork
used in conjunction with
dimmable LEDs provides a realistic
looking panel that photographs
well.
SPACE SUITS - Design, Construction & Rental, Serving
Aerospace, Film, Education & Entertainment for
almost 40 years!
HOME
Space Suit Rentals
Space Suit Replica Rental FAQ
Space Shuttle Rental
Space Station iSS Rental
Space Ship/ Craft Replica Rentals FAQ
SpaceHab Module Rental
Space Related & General Gallery
Space Shuttle Simulator
Space Craft, Space Ships - Apollo to CEV
Space Suit Rental - Low Budget
SpaceSuit Construction
SpaceShip One
Space Movie Consultant
Space Education
Miniatures, General
Miniature Buildings
Theme Parks, Attractions
Props/Sets
Art & Photography
Movies
Credits, History, Articles
Awards
Auto, Custom and Show Cars
Planes, Trains, Ships
Concerts, Events
Contacts, Directions
Misc., News, Legal
FOR SALE
WANTED
Speedster
Train Kits